It happened to us and it's likely going to happen to you.  One of our staff members tested positive for COVID-19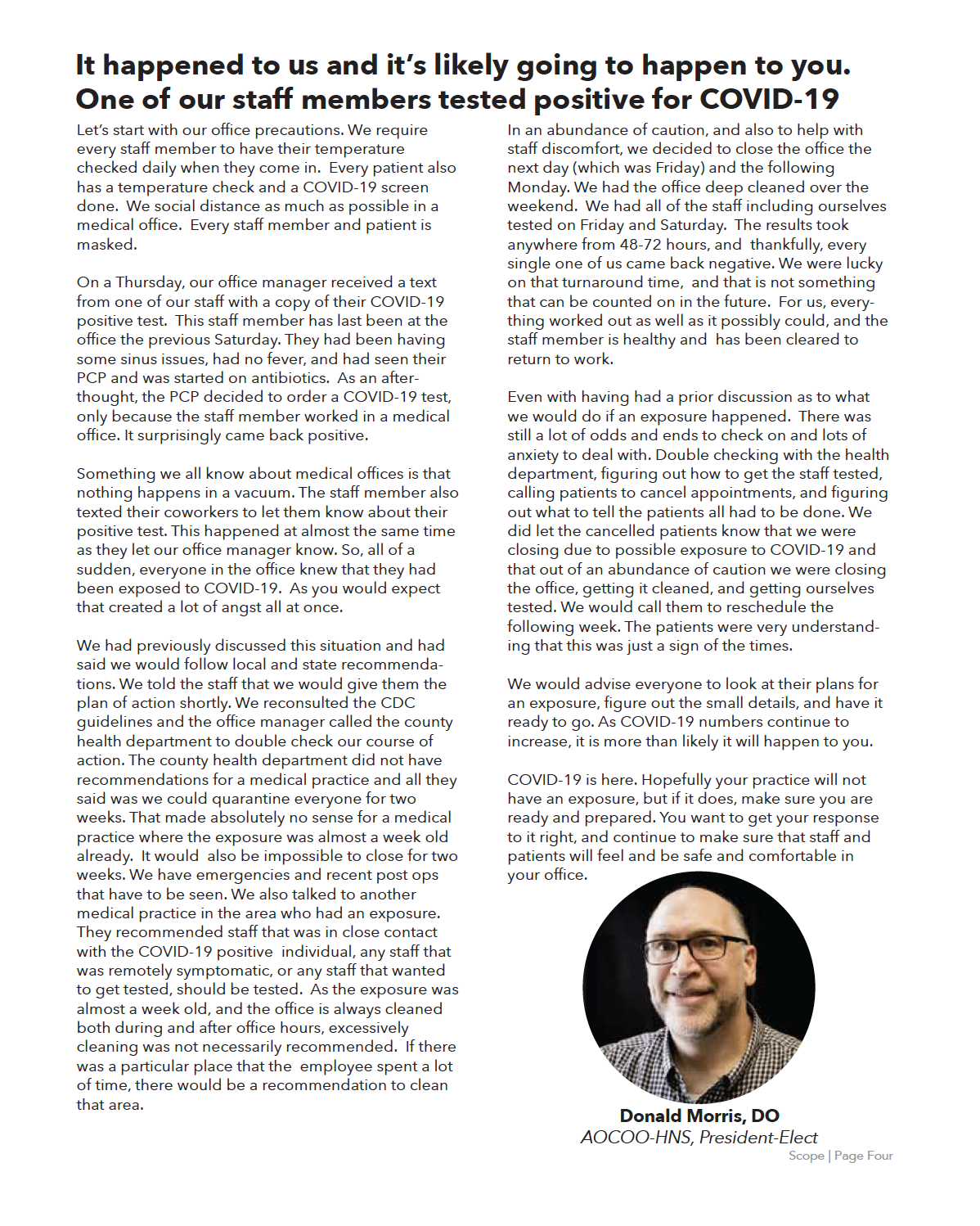 Let's start with our office precautions. We require every staff member to have their temperature checked daily when they come in.  Every patient also has a temperature check and a COVID-19 screen done.  We social distance as much as possible in a medical office.  Every staff member and patient is masked.
On a Thursday, our office manager received a text from one of our staff with a copy of their COVID-19 positive test.  This staff member has last been at the office the previous Saturday. They had been having some sinus issues, had no fever, and had seen their PCP and was started on antibiotics.  As an afterthought, the PCP decided to order a COVID-19 test, only because the staff member worked in a medical office. It surprisingly came back positive.
Something we all know about medical offices is that nothing happens in a vacuum. The staff member also texted their coworkers to let them know about their positive test. This happened at almost the same time as they let our office manager know. So, all of a sudden, everyone in the office knew that they had been exposed to COVID-19.  As you would expect that created a lot of angst all at once.  
We had previously discussed this situation and had said we would follow local and state recommendations. We told the staff that we would give them the plan of action shortly. We reconsulted the CDC guidelines and the office manager called the county health department to double check our course of action. The county health department did not have recommendations for a medical practice and all they said was we could quarantine everyone for two weeks. That made absolutely no sense for a medical practice where the exposure was almost a week old already.  It would  also be impossible to close for two weeks. We have emergencies and recent post ops that have to be seen. We also talked to another medical practice in the area who had an exposure. They recommended staff that was in close contact with the COVID-19 positive  individual, any staff that was remotely symptomatic, or any staff that wanted to get tested, should be tested.  As the exposure was almost a week old, and the office is always cleaned both during and after office hours, excessively cleaning was not necessarily recommended. If there was a particular place that the  employee spent a lot of time, there would be a recommendation to clean that area.  
In an abundance of caution, and also to help with staff discomfort, we decided to close the office the next day (which was Friday) and the following Monday. We had the office deep cleaned over the weekend.  We had all of the staff including ourselves tested on Friday and Saturday.  The results took anywhere from 48-72 hours, and  thankfully, every single one of us came back negative. We were lucky on that turnaround time,  and that is not something that can be counted on in the future.  For us, everything worked out as well as it possibly could, and the staff member is healthy and  has been cleared to return to work.  
Even with having had a prior discussion as to what we would do if an exposure happened.  There was still a lot of odds and ends to check on and lots of anxiety to deal with. Double checking with the health department, figuring out how to get the staff tested, calling patients to cancel appointments, and figuring out what to tell the patients all had to be done. We did let the cancelled patients know that we were closing due to possible exposure to COVID-19 and that out of an abundance of caution we were closing the office, getting it cleaned, and getting ourselves tested. We would call them to reschedule the following week. The patients were very understanding that this was just a sign of the times. 
We would advise everyone to look at their plans for an exposure, figure out the small details, and have it ready to go. As COVID-19 numbers continue to increase, it is more than likely it will happen to you. 
COVID-19 is here. Hopefully your practice will not have an exposure, but if it does, make sure you are ready and prepared. You want to get your response to it right, and continue to make sure that staff and patients will feel and be safe and comfortable in your office.  
Don Morris, DO